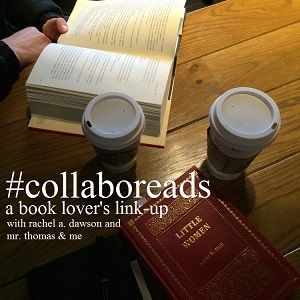 When I heard the theme for this month's #collaboreads prompt, I knew I wanted to read Still Alice by Lisa Genova. I'd heard several really good things about this book and so it was the perfect time to read it (even though it's not on my original summer reading list).
Riveting
This story of a woman who has early onset Alzheimer's Disease was very eye opening and hit close to home. I thought it described so well what a person who's been diagnosed with Alzheimer's might be feeling or experiencing as their brain slowly deteriorates. The story takes place over the course of a couple of years and shows her experience with her family, work, husband, and friends as she slowly begins to forget. I wanted to keep reading to find out what happens to Alice, and at the same time didn't want to know because it was just so sad.
I was prepared to cry a lot as I read this book, but I didn't at all. Of course it was extremely sad, but I think it was built up more than it should have been. I also read it on my Kindle and the story came to an end when my Kindle said 86% complete (the last 12% was discussion questions for a book club), so I was totally caught off guard. Whomp whomp.
Elements
Well I definitely could not relate to the main character of this book because I am not slowly dying from Alzheimer's Disease. I could, however, relate to her family. They loved each other unconditionally, had their issues like all families do, but when it came time to make those tough choices and circumstances forced them to actively show their love and support to each other, they did. This story beautifully demonstrates the ups and downs families go through together as they slowly watch a family member die. I could relate to that because I've seen my own family respind in this way while we slowly lost my Gramma.

Associate
I have known a couple people who have had dementia and I remember one family friend passing away after a long battle with Alzheimer's. Alice went through very similar experiences like I remember people going through. I can't imagine the toll taking care of someone who is literally losing their mind would take on family, friends, and caretakers. I do have a couple distant family members who've had dementia, but never anyone really close to me. This story opened my eyes to heaviness of caring for someone with this disease.

It didn't remind me of any particular book or movie I've seen, but it reminded me of a lot of families I know that have gone through the process of losing a loved one.


Design
I read this book on my Kindle, so I wasn't drawn in by the cover. I do, however, have a vivid picture of Julianne Moore (who plays the character of Alice Howland in the movie) stuck in my head and that's how I pictured the Alice the entire time I was reading. Of course, she is gorgeous and that is exactly how I'd want to look if I was dying a slow death.
Stars
I gave this book 4 stars. I really loved the character development, the detailed descriptions of Alice's ability (or lack of) to speak, listen, read, and write as her disease progressed. I would definitely recommend this book and let people know that you'll only get to 86% if you're reading it on your Kindle!